Enabling Gometalinter with Jetbrains Editors
---
I've been using Jetbrains editor (the free Idea community edition) or Pycharm with the Go plugins and very happy with this setup, the editor is providing some realtime linting but I was missing gometalinter.
First install gometalinter
go get -u github.com/alecthomas/gometalinter
gometalinter --install --update

To add support inside Jetbrains editors use the External tools feature.
In Preferences > Tools > External Tools, add a configuration.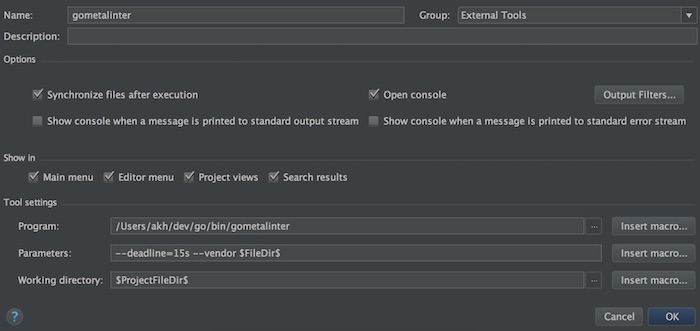 Set the Program path to your $GOPATH/bin/gometalinter
Parameters to --deadline=15s --vendor $FileDir$
Working directory to $ProjectFileDir$
For the linters messages to be clickable and jump to code add an Output filter with Regular expression to match output $FILE_PATH$:$LINE$